We all know how great SharePoint Reminder for sending internal reminders and driving simple workflow. But have you tried it yet for managing the bits of your processes that happen outside of your organization? Sending emails to customers, suppliers or other contacts who are not members of your SharePoint deployment, or even members of your organization.
This is really easy to do and there are lots of places you might use this. Let's look at some of the issues you'll need to bear in mind.
General Tips
When you are sending emails to people outside your organization you need to ensure that:
you can actually send external emails from SharePoint
the email comes with a recognizable "from" label.
any replies go to an address where they will be dealt with.
don't send a hyperlink to the list item in your email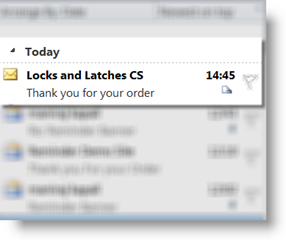 First,  to be sure that your STMP server allows relaying to outside addresses then you may want to use the diagnostics tool to send a test email to a private email address. – http://www.pentalogic.net/sharepoint-products/reminder/reminder-manual?p=configurationtool%2Fdiagnostics.htm
When sending emails to people outside your organization you will want to make sure that what shows up in the inbox is recognizably from you.  You don't want your customers getting emails from "SP2010 Intranetxyz", or some other random label. SharePoint automatically labels outgoing emails with the name of the site or subsite they have come from.  So for this example we are going to set up a sub site called "Locks and Latches CS" so that all of our emails to customers and suppliers will be clearly identifiable as coming from Locks and Latches Customer Services.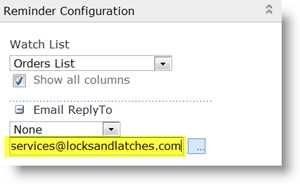 When a customer or other external contact replies to your email it's important that that reply gets routed to an address where a real person is going to read it and deal with it.  You can write "please contact service@zyz.com in the body of your email until you are blue in the face – but you can be sure that a good percentage of customers who want to reply to you are just going to ignore that and click on "Reply".  By default SharePoint will route all replies to emails it has generated to one central address – one address for the whole SharePoint deployment.  This address typically gets lots of mail, and often doesn't get very closely monitored, so in Reminder we have the ability to override that and specify a "Reply To" address for each Reminder you set up.  For this example we are going to have all replies go to customer.services@locksandlatches.com.  If in your own set up particular people are responsible for their own order you might choose to have replies going to the person who created the order record "Created By" or maybe the account manager for that customer "Assigned To".  The main thing is that you ensure replies go to an email address which is monitored, and where they will be responded to.

Don't send out dead end links or useless information. Both SharePoint's built in Alert Me feature and SharePoint Reminder send out a hyperlink to the relevant list item in the alert/Reminder email by default.  If you are sending emails to external contacts this link will very likely be of no use, as the contact probably won't have permissions to view your SharePoint site.  In SharePoint out of the box alerts you can't customize your alert emails, but in Reminder you can, so when sending emails to an external contact remember to uncheck the "Include Hyperlink" box.
Reminder Set Up
In this example we have used Reminder to send an email to a customer each time a new order is received.  The set up of a Reminder when sending an external email is really much the same as the set up of any other Reminder.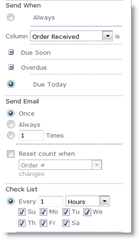 In this example Reminder is set to watch our orders list.  It's set to watch the "Order Received" column, and email the address in the "customer email" column when "Order Received" is "Due Today"  – or equal to today.  Reminder is checking the list every hour, which means customers should get a confirmation email within an hour of their order being received.
Because "customer email" is simply a text field, and not recognized by SharePoint as containing an email address you will need to check the "Show all fields" box.
Customize your emails with merge data from your list, just as you would with a Word Mail merge.
And away you go, SharePoint Reminder emails for your customers.
Where Else Might I Use This?
There are loads of places where you could use this with customers, suppliers or other external contacts:
delivery notification emails for customers
overdue invoice emails for customers
stock re-order emails for suppliers.
meeting reminders for contacts.
to name but a few.
And if you have other examples of using Reminder to send emails to external contacts we would love to hear them.

Tags: Reminder, SharePoint, SharePoint 2010