Since SharePoint Highlighter's release in May we've had some great suggestions and requests for features and improvements; one of the more surprising was the request for performance enhancements for those with 20 or more Highlighter columns in a view (and really big screens, no doubt).
Although we've added odds and ends during other projects, the Highlighter wishlist has steadily grown; fed by the suggestions from its growing user base and our own drive for continuous improvement.
So while TeamTime was being tested and prepared for beta, we stroked our collective beards (it is Movember after all) and decided to clear it down. Here are some highlights:
Row highlighting columns hide themselves
Highlighter displays on View Item form
Lookup columns now supported
Hidden Row Highlighting Columns
If you have a Highlighter column which displays Row Highlighting you'll no doubt have noticed that the empty Highlighter column has to be visible on the page on order for the highlighting to work: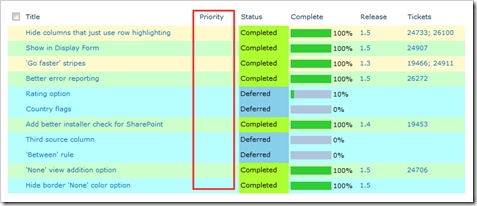 In Highlighter v1.5 the column will automatically hide itself from the page if it is only used for Row Highlighting: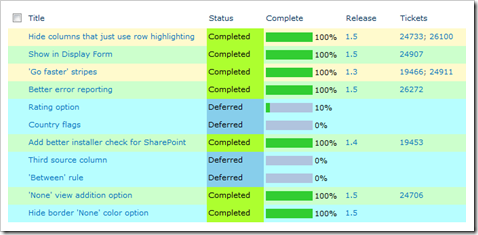 View Item Form Display
Previously Highlighter columns would not display on the View Item form (or customized versions of it):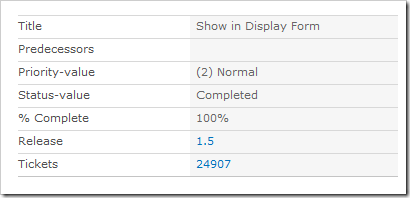 Highlighter columns will now display on this form, with the exception of those used only for row highlighting (which will be hidden entirely):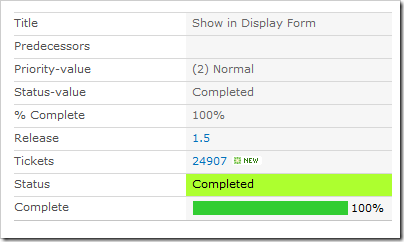 Lookup Columns
You can now use Lookups as source columns, which act in much the same way as Choice columns:

Upgrading
Please see the manual for instructions on downloading and upgrading to the latest version of SharePoint Highlighter.
What's on your wishlist?
The more suggestions we have the better we can make our products. Every feature request is reviewed and added to the product's wishlist. Once a wishlist hits a certain size, the most popular (and/or the best ideas) are rounded up and herded into the next version.
Contact us at support@pentalogic.net and tell us what's on your wishlist!
Tags: Highlighter, Highlighting, SharePoint Highlighter, Update