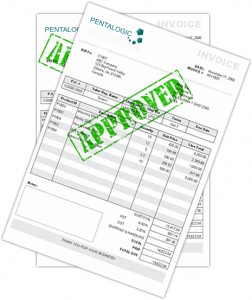 SharePoint Workflows are one of the magic parts of the solution – the bits when even the most cynical and sceptical end user gets to see the benefit.
Instead of emails and bits of paper flying round your organization, getting lost, forgotten and falling between the cracks, everything is managed and driven centrally by SharePoint.
There are a whole load of scenarios where you could use workflows:
Expense claims
Purchase order Authorisation
Timesheet approvals
Helpdesk escalations
SharePoint can handle all of these processes seamlessly and automatically.  Seeking appropriate approvals, escalating, notifying, referring back and reminding as needed, whilst keeping all documentation secure in one central location.
So, that's the upside.  The downside is that to create a SharePoint workflow you need to use either SharePoint Designer or Visual Studio.  Whilst SharePoint Designer isn't all that hard to master it is a very powerful tool and capable of doing serious damage in the wrong hands, for this reason many organizations keep it looked firmly away from most users.  Visual Studio on the other hand really is hard to master – strictly for the mega-brains in your IT department.  So this means that cooking up a bit of Workflow magic out of the box is out of the question for most SharePoint users.
The alternative is to use SharePoint Reminder to create your SharePoint workflows. Using SharePoint Reminder and some clever filtered list views you can easily create multi stage workflows to cover any of the scenarios listed above.
This use case walks you through how to create a 2 stage supplier invoice approval workflow, using SharePoint Reminder and a standard SharePoint document library.
Reminder only drives simple workflow, it doesn't have the advanced logic of SharePoint OTTB Workflows and it won't do things like automatically updating lists or other systems.  But for a lot of your day to day processes, you might find that it does just what you need.