We've added some new bells and whistles to the latest version of TeamTime:
Add your own columns to the timesheet (Custom Columns)
Pull data from multiple TeamTime sites in to a single place (Overview Site)
Custom Columns
You can now add and reorder columns on the timesheet on your TeamTime homepage. For example, you can add Cost Center codes to record where the time is chargeable to:

This data can then be used to produce Reports and Analysis within TeamTime. It can be accessed via our extensibility lists to integrate with other systems in your organisation.
Here are some other useful columns you could add:
Overtime flag
Chargeable client
AM/PM
For more information see our Custom Column Guide.
Overview Site
Since there is no limit to the number of TeamTime sites you can have, we encourage creating smaller sites with fewer users. We'd recommend about 10-20, and certainly less than 50.
Having several small sites keeps it easier to use, as Marketing isn't tripping over Development's tasks, and the approvers don't waste time trying to figure out who the heck "David Jones" is.
The next question is of course "How do I consolidate the data from all those sites into one place?", and the answer is to use an Overview site.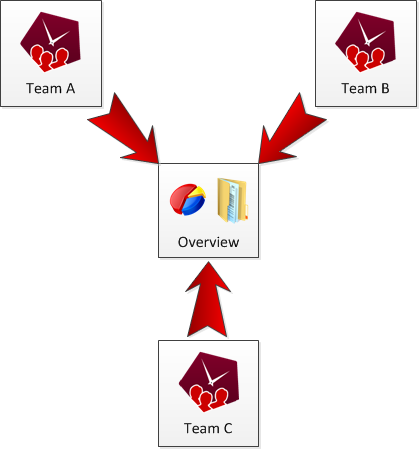 Simply create an Overview site exactly as you would a normal TeamTime site, and pull the data from all your sites in the site collection into one place.
The Reports and Analysis are in the same familiar location and layout, with direct access to the consolidated list data as a bonus.
For more information see our Overview Site Guide.
Try it out!
Give our 30 day free trial a go:

If you've trialled TeamTime in the past, just ask us for a trial extension: support@pentalogic.net
If you're upgrading from an earlier version, please see the following: v1.4 Upgrade Notes
Tags: SharePoint TeamTime, SharePoint Timecard, SharePoint Timesheet, Timecard, Timesheet, Update