Track and analyze your team's time with our newest product: SharePoint TeamTime! A ready-to-use timesheet site template for SharePoint 2007 and 2010.
What's so great about TeamTime you ask? Well let me tell you:
Log your time your way
Want to log your time as you work? Then simply punch in on your personal dashboard to begin the timer:

Want to write up your timesheets when it's convenient for you? Your dashboard has this covered too: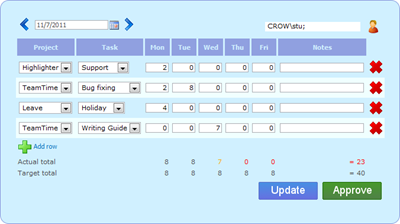 Make those numbers work for you
Logging the time is all well and good, but what we really want is to see what all that data adds up to. Don't waste time working for the numbers; make the numbers work for you.
Using the Analysis page you can drill down to the data you want, and view read-made summaries and graphs.
If you still want more from your numbers, pick the data you want from the Reporting page and export it straight to Excel.
Need more?
Per-server licensing: No wasting time trying to license and set up every user; buy it once and forget licensing ever happened.
Take the tour: Watch our TeamTime Demo; see if you can count how many times the word 'time' is used. It's a lot, trust me.
Free 30 day trial: Download and try it out!
Tags: Release, SharePoint, SharePoint TeamTime, SharePoint Timesheet, Timesheet