FilterPoint has had the ability to send Date Filters but a common request has been Date Ranges – like showing everything this month, last year or between two arbitrary dates.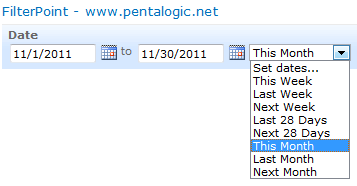 The good news is that we've added this in to FilterPoint as of version 1.2
The bad news is that this will only work with our other SharePoint products – Planner and PivotPoint – it won't work with SharePoints built in List View web part (LVWP).
That's disappointing!
Yes it is – it's just a limitation of SharePoints filtering I am afraid, but all is not lost!
This page shows how you can do things like Month filtering using calculated columns and this blog article shows how you can setup "Current Month/Previous Month" views using nothing more than Calculated Columns and View filters.
Upgrading
As always you can upgrade without losing any settings by downloading and running the latest trial version and selecting "Upgrade" when prompted (don't forget you need the a recent version of Planner (v2.6.9+) and PivotPoint (2.2.0+) to accept date range filters.
Tags: Filter, PivotPoint, Planner, SharePoint