I am sure you have noticed that there is a lot going on here at Pentalogic lately.  Just a couple of months ago we launched FilterPoint, which brings fast, flexible filtering to SharePoint lists and web parts.  Then we unveiled SharePoint Highlighter which gives you a whole range of color coding, icons and effects to brighten up your lists.  And our new free tool View Rescue sorts out an annoying niggle for SharePoint 2010 users.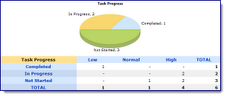 But we haven't forgotten our existing products.  Feature requests for Planner, Reminder and PivotPoint come in from customers all the time and new versions of all 3 are planned for the coming months.
First off the blocks is PivotPoint with the new version out by May.  We are very excited about this and we hope you will be too.
PivotPoint v2 includ

es a host of handy new features like drill down form the Pivot table to relevant list items, the handy "Add New" button which Planner users will be familiar with at the bottom of the display, and charts and graphs.
The charting and graphing functionality will mean that you will be able to choose to view bar, line, pie. Column and area charts as well, or instead of the traditional Pivot table.
We think that this is really going to bring dashboards to life – imagine your Sales Team being able to view "Sales to Date" as a dynamic color bar chart, generated straight from the SharePoint list?  Or the Helpdesk viewing a pie chart of current open requests by status, or age?
We have always thought PivotPoint was pretty nifty:  it's the only tool we know of that applies Pivot Table, or Cross Tabulation functionality directly to SharePoint lists.  But as they say, a picture speaks a thousand words (or in this case should it be numbers?) and we think that when you see the charts PivotPoint can produce directly from SharePoint lists, you are going to wonder how you ever managed without it.
PivotPoint v2 will be available in the next few weeks.  For immediate notice of the release subscribe to the blog RSS feed, or email me at: clare.stone@pentalogic.net
Tags: PivotPoint, SharePoint