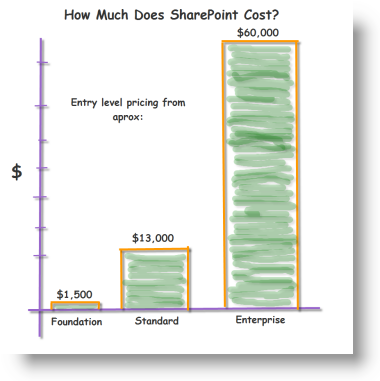 One of the top questions you'll ask if you're looking at deploying a SharePoint solution for your organization is – how much is this going to cost us? While the exact answer depends on the size of your business and what you want from SharePoint, this post will look at the cost of entering the SharePoint sphere.
There are many options available and many variables that may come into play here – so the figures we are giving are not designed to cost a solution down to the last cent – rather to give you a "ball park" idea of what each level of the SharePoint solution is likely to cost, and perhaps more importantly the size of the steps between each level.
At each level there are a number of cost elements that you will need to take into account when working out your pricing:
Server Licenses: SharePoint is a server application and whatever level of SharePoint you are running you will need one or more server licenses before you can run the software.
SharePoint License: In addition to your server license you will need a SharePoint license.
CALS: Client Access Licenses: These allow users, or devices (desktops/laptops etc) access to your SharePoint server, and you will need one for every user/device you wish to grant access to.
External Connector License: want to use SharePoint for your public facing website?  After all, it's free right?  Wrong?  Clearly you can't use CAL's to give access to users of a public facing website, so instead you will need an External Connector License.  Microsoft's pricing guidelines on these helpfully state "Varies" – (thanks Bill!)  You should budget at least a couple of $k, and potentially much more, depending on the size of your installation. We have not factored the External Connector License into our price estimates here.
Finally, you will want to think about hardware costs.  Here we are simply discussing software costs and it may well be that in order to implement your desired SharePoint deployment you are going to need additional hardware as well.
Now, before we get on let's have a little clarification on the 3 levels of SharePoint – because Microsoft does like to change the names fairly regularly.
SharePoint Versions 2007 and 2010
| | | | |
| --- | --- | --- | --- |
| | "Free" | Standard | Premium |
| 2007 | WSS | MOSS | MOSS Enterprise |
| 2010 | Foundation | Standard | Enterprise |
There is relatively little difference between 2007 and 2010 in terms of the pricing models, so in this article we have stuck with the 2010 terminology.
1. SharePoint Foundation
This is the "free" version of SharePoint that was known as Windows SharePoint Services (WSS) in 2007. It comes bundled with Windows Small Business Server (SBS) or can be downloaded free with Windows Server. It includes most of the powerful collaboration features, some basic search capabilities and limited content management features. Microsoft Windows Server costs from $1,088.00 and SBS costs from $1,428.00
SBS comes with five CALs as standard. This allows five users or devices access to the server and you'll need to figure out if you might need more than this. Additional user or device CALs cost from $44.00.
There are two types of CAL – a user CAL is restricted to an individual while a device CAL is restricted to one device. Device CALs might make sense if you want to assign multiple users to one device, such as shift workers. User CALs are a good option if you have roaming employees who need access to the corporate network from mobile devices or employees who use multiple devices on your network.
Foundation is a comprehensive solution at an affordable price for small businesses but you miss out on sophisticated features like document workflow and content authoring. If there is one piece of 'missing' functionality that exists in the standard solution, you could look at enhancing Foundation with custom code or buying a third party tool rather than upgrading to Standard or Enterprise.
2. SharePoint Standard
If your organization has more than about 25 employees, you may need to look at buying SharePoint Standard, previously known as MOSS. SharePoint 2010 Server costs from $4,900 and a single license for the Standard edition is priced from $7,389. This option provides the core capabilities of SharePoint; sites, communities, content and limited search and composite features. You will need to buy additional standard CALs for MOSS and the Standard edition of the software. For this option, user CALs cost from $125 and device CALs cost from $142. Do bear in mind that this option is only for one server – you may need to invest in licenses for additional servers as your organization grows.
3. SharePoint Enterprise
This option will fulfil your demands if you have thousands of employees in your business and ball-park estimates for a server license range from $57,000. This option delivers the full range of features with additional search, composites and powerful data insights. Again, you'll need to invest in user or device CALs and an additional FAST search server license from $22,000 if your organization demands it.
Bridging the Gap
So we can see that even with SharePoint there really is no such thing as a free lunch – even "free" Foundation will come at a cost for most of us.  And we can also see that the gaps in pricing between the different levels are pretty huge.
So what are your options if you find that the SharePoint level you are currently using is no longer giving you quite enough functionality?
Well you could dig deep into your corporate pockets and go for a full upgrade.  Or you might consider looking at 3rd party add-ons that fill your particular functionality gaps at a fraction of the price.
For example, if you are happy with Foundation, but need more advanced filtering capabilities you could cough up $12,000+ for a full upgrade to MOSS, or you could simply buy a 3rd party SharePoint Filtering product for around $500.
3rd party add-ons exist to fill many of the gaps in SharePoint functionality and can represent a cost effective alternative to a full upgrade to the next level.
I hope this post helps your quest to figure out how much SharePoint will cost your organization and I've added some useful links for you to check out below.
How much has SharePoint cost you so far? Let us know if you're feeling brave!
Useful links
Official SharePoint licensing details
http://sharepoint.microsoft.com/en-us/buy/Pages/Licensing-Details.aspx
Compare the different editions of SharePoint at-a-glance
http://sharepoint.microsoft.com/en-us/buy/Pages/Editions-Comparison.aspx
Get more official estimates for volume licensing
http://www.microsoft.com/licensing/mla/product.aspx
Some SharePoint pricing examples for different businesses
http://www.sharepointblues.com/2010/10/25/sharepoint-2010-pricing-examples/
SharePoint versions explained
http://blog.pentalogic.net/2010/06/sharepoint-versions-history/
CAL's (Device/user) and External Connectors
http://www.microsoft.com/licensing/about-licensing/client-access-license.aspx
http://en.wikipedia.org/wiki/Client_Access_License
Tags: Sh, SharePoint, SharePoint 2010, Tip, VS2010