Just a quick note to let you all know that we have just released a new version of SharePoint Planner web part – v2.6.4.
The new version includes a couple of handy new features that might be useful for you.
The new Split Multiple Values option will be useful in resource planning in circumstances where you want to enter multiple category values into one list item, but still view each individual category's activity as a separate line in your Planner view.  For example you might want to create a list item for a project meeting, with several people in attendance.  In a Gantt view of project tasks it would be appropriate to show this meeting as one item.

But in a category view of staff availability/commitments you would want the meeting to appear as a separate item for each staff member involved.

The split multiple values feature now gives you this option when working with a category view.
Another new feature allows you to word-wrap long labels. By default Planner truncates long labels, and this isn't a problem when you are in front of your screen as you can see the full label of an item in the tooltip simply by hovering over it.

However, for those of you who like to print your planner views, the tooltip isn't an option.  So we have provided the option to word-wrap long item labels, ensuring that you have all of your information to hand when looking at hard copy versions of your Planner charts.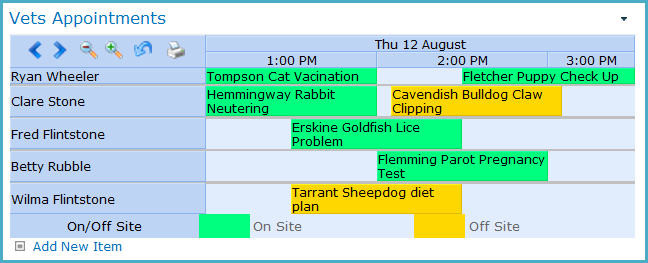 We hope you find these small improvements useful.  We have spent quite a bit of time comparing the functionality of Planner with what's available out of the box in SharePoint 2010 and although Planner is more than 5 years old now we have been pleased (and a little surprised!) to find that Planner still offers significant benefits for resource and simple project planning.  We will be sharing more of our insights into the good the bad and the ugly of resource planning in SP 2010 in a future post.
This is likely to the last minor upgrade of Planner before we move to version 3 early in 2011. Version 3 will include some of your most regular feature requests like grouping multiple categories, dynamic sizing and rich tooltips; and will also harness the power of Silverlight now available in SP 2010 to deliver a much richer display and improved printing capabilities – watch this space!
If you are an existing customer you can download the new version here.
Or if you don't already use SharePoint Planner why not try it free for 30 days?
Tags: Planner, SharePoint, WebPart